PREVIOUS DEPOSITOR DATABASES:
Every year many brokers close down for a variety of reasons. When this happens, we actively acquire their databases of worldwide customers which are worth their weight in gold. Leads include, name, phone #, email address, and the deposited $ amount with each broker. Once we have obtained the database, we use our in house dialer to scrub each lead with 2 important steps. First, all wrong numbers are removed which ensures 100% delivery rate. Second, with our advanced answering machine detection, our dialer will place a call only to check if a human (not an answering machine) answers the call. This guarantees that the contact rate is the highest possible, as we only sell/deliver leads where a human has answered the phone. We have the following brokers complete databases of previous worldwide depositors: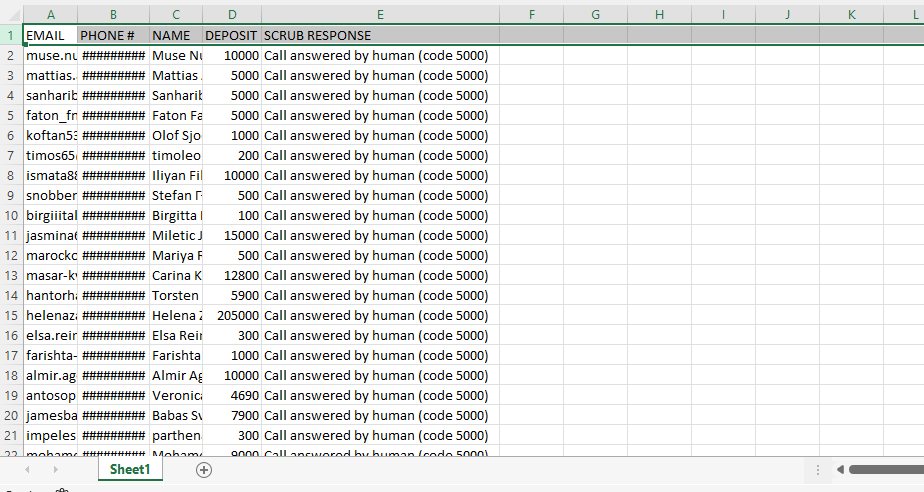 2022
| | |
| --- | --- |
| 24option | |
| xtrade | |
| itrader | |
| procapital markets | |
| triton capital markets | |
| skylinemarkets | |
2021
| | |
| --- | --- |
| titantrade | |
| pwrtrade | |
| btsave | |
| ivoryoption | |
| toroption | |
| wmoption | |
LIVE LEADS:
Forexhotleads has built the most advanced live lead AI driven hot lead system which generates thousands of real time leads each day in more than 20+ languages across tier 1,2,3 geos.

Our unique system dials the lead and once the customer answers the phone, plays a custom voice recording (You choose exactly what you want it to say or we can advise what works) in any language with your offer. Further after listening to the recording, the customer then receives a custom sms to click and confirm they are ready to be contacted.

With this unique double confirmation approach, 100% of the live leads have a valid phone number, answer the phone when they are called, and click an sms. This is the most engaged and interested lead that can be generated, and in under 1 second our system api's the live lead to your crm/system for your team to contact the customer.